Stimulant drink that enhances the erection and the quality of the sexual intercourse as well as increasing stamina and energy levels in sportsmen.
HOW TO USE
Take one bottle 1 hour before the activity.
PRESENTATION
4 x 30 ml bottle box.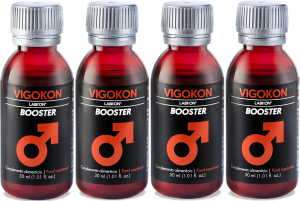 INGREDIENTS
– Arginine
– Citrulline
– L-Taurine
– Siberian Ginseng (Eleutherococcus senticosus)
– Korean Ginseng (Panax ginseng)
– Maca (Lepidium meyenii)
– Ginkgo (Ginkgo biloba)
– Muira puama (Ptychopetalum olacoides)
– Vitamin B3
– Adenosine triphosphate
– Caffeine
– Zinc
Vigour and sexual performance?
Nowadays, lifestyle, stress, age and certain illnesses may have a negative impact on male sexual performance.